Nutrition workshops – These have been started recently, in response to certain health problems that came to our notice. Wetland expert specialising in nutrition by use of wetland plants and allied ingredients have begun to take classes of small groups of wetland residents to advise them on how to improve nutrition at a low cost. This type of workshop has been a resounding success.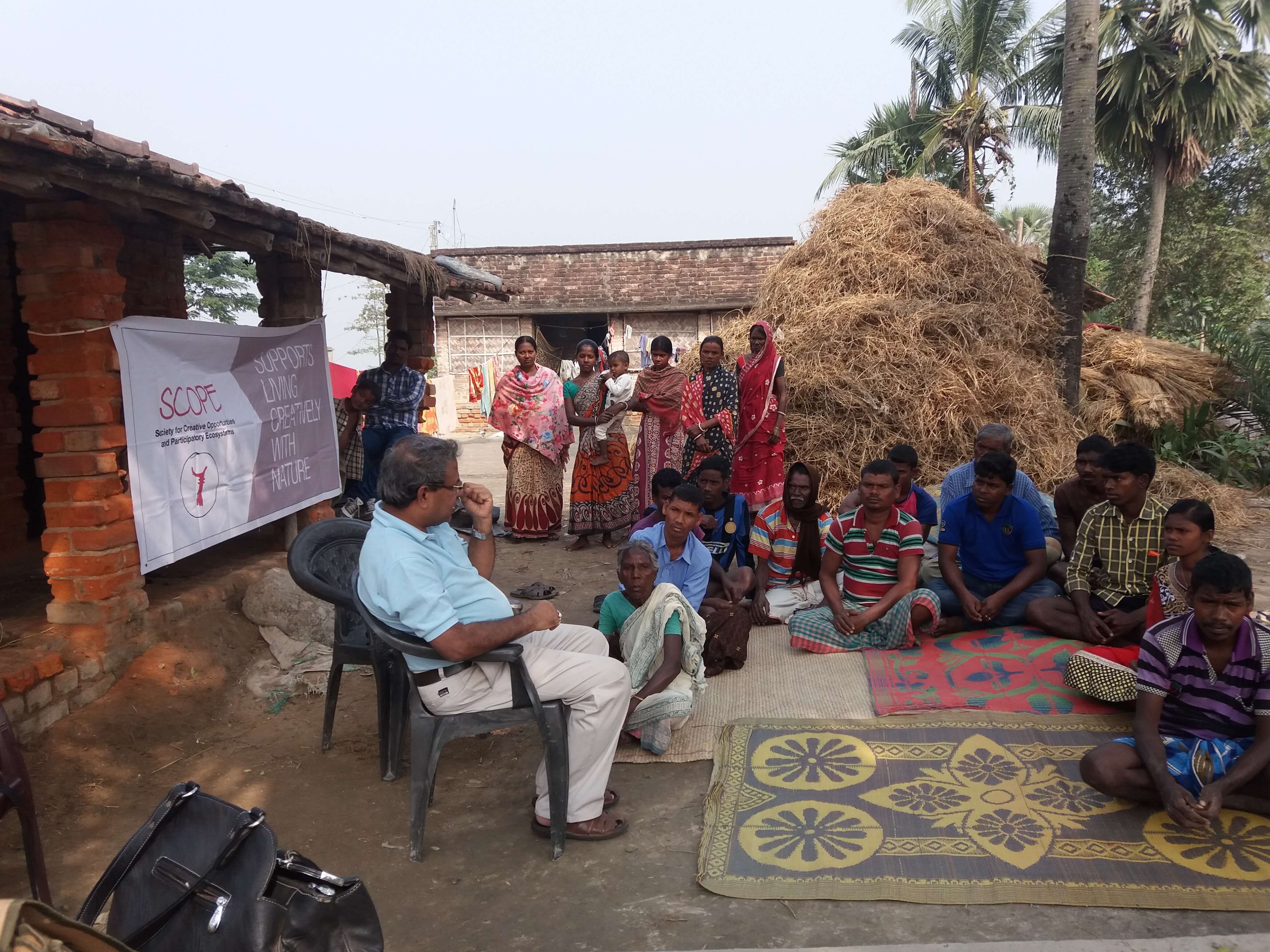 Nutrition Workshop
Students from Mahadevi Birla World Academy visited the wetlands in October 2016 and in the wake of their visit, raised funds enthusiastically to treat a small group of economically disadvantaged people to get their eyes checked, and obtain glasses or go for an operation where required.
Eye Camp for Tribals
A cultural programme to celebrate the East Kolkata Wetlands
2017 is a special year for Kolkata. On 22 March – World Water Day – Ramsar Bureau had a special mention of East Kolkata Wetlands as one of the two most outstanding wetlands in the world for treating wastewater. To follow this up, United Nations' World Water Development Report had a special mention of these wetlands and their multi-functional nature.
It is against this backdrop that one needs to understand the East Kolkata Wetlands, spread over 12,500 hectares, uses city sewage to grow fish, vegetables and paddy in successive resource recovery practices. The wetlands include 32 revenue villages, and is the only Ramsar site in India to be recognised for its wise use. The wetlands serve as a natural biological reactor, obviating the need for a sewage treatment plant (STP). Its uniqueness lies the growing of fish in shallow ponds that receive wastewater from the core Kolkata city's wards through the city's outfall channels everyday. The sunlight that these ponds receive helps in algae-bacteria symbiosis to facilitate algal bloom, and algae are fish feed. E. coli[1] cannot be adequately cleaned by conventional STPs, but gets comprehensively reduced in these waterbodies which behave as oxidation ponds, so the water gets treated here. By comparison an advanced nation like Germany has wonderfully well maintained STPs but cannot adequately deal with the coliform that reaches the rivers – so they use groundwater for drinking purposes.
In the light of the UN recognition, the Society for Creative Opportunities and Participatory Ecosystems (www.scopekolkata.org), which works exclusively in the East Kolkata Wetlands, has decided to celebrate the work of the wetland community by organising a cultural show – a jugalbandi (simultaneous performance) of sarod playing and painting. Internationally acclaimed sarod specialist Dr Avijit Ghosh (http://meetkalakar.com/Artist/1627-Avijit-Ghosh) will perform with budding painter Prerona Ghosh, at Rotary Sadan on December 23, 2017 (Saturday), from 6.30pm to 8.00pm.
This is our way to celebrate the unique living heritage of Kolkata, and spread awareness about it to the ordinary citizen, in a creative way. Celebrated wetland expert and Luc Hoffman awardee Prof Dhrubajyoti Ghosh has kindly consented to introduce the wetlands and the community to the audience, whereafter the duet recital will follow.
This is also a fundraising event, the proceeds for which will go towards our livelihood initiative (brochure attached). As an interested stakeholder in this city, we appeal to you to attend this extraordinary event. We promise that this will be intensively remembered in the years to come, and serve to create positive impact of a heritage that Kolkatans should justly be proud of.
[1] * NOTE: Humans produce about 200 billion coliform cells a day. Escherichia coli is an organism found in the human faeces, and is named after German paediatrician Thomas Escherich who discovered the organism in 1884 after putting the feces of a cholera patient under a microscope in search of the organism that causes cholera. This discovery had the greatest impact on municipal water systems as the amount of E. coli in waterways became an ideal indicator of the water's fecal contamination. Oxidation ponds are the best system to reduce E. coli in a tropical country.