Very few know that Wetlands Day was first started in Kolkata in 1990, on 16 June. This was 7 years before World Wetlands Day started being celebrated by the Ramsar Secretariat in 1997. On 5 June 1990 ecologist Dhrubajyoti Ghosh received the UN Global 500 Roll of Honour, a recognition given by the United Nations Environment Programme to 500 distinguished environmental stewards around the globe. Ghosh was the only environmentalist from West Bengal who received this recognition. He went to the then Chief Minister of the state of West Bengal and said that this is an honour for the people of the state, and should be celebrated by declaring Wetlands Day, to be celebrated every year. The 16th of June marked the onset of the monsoons in Bengal.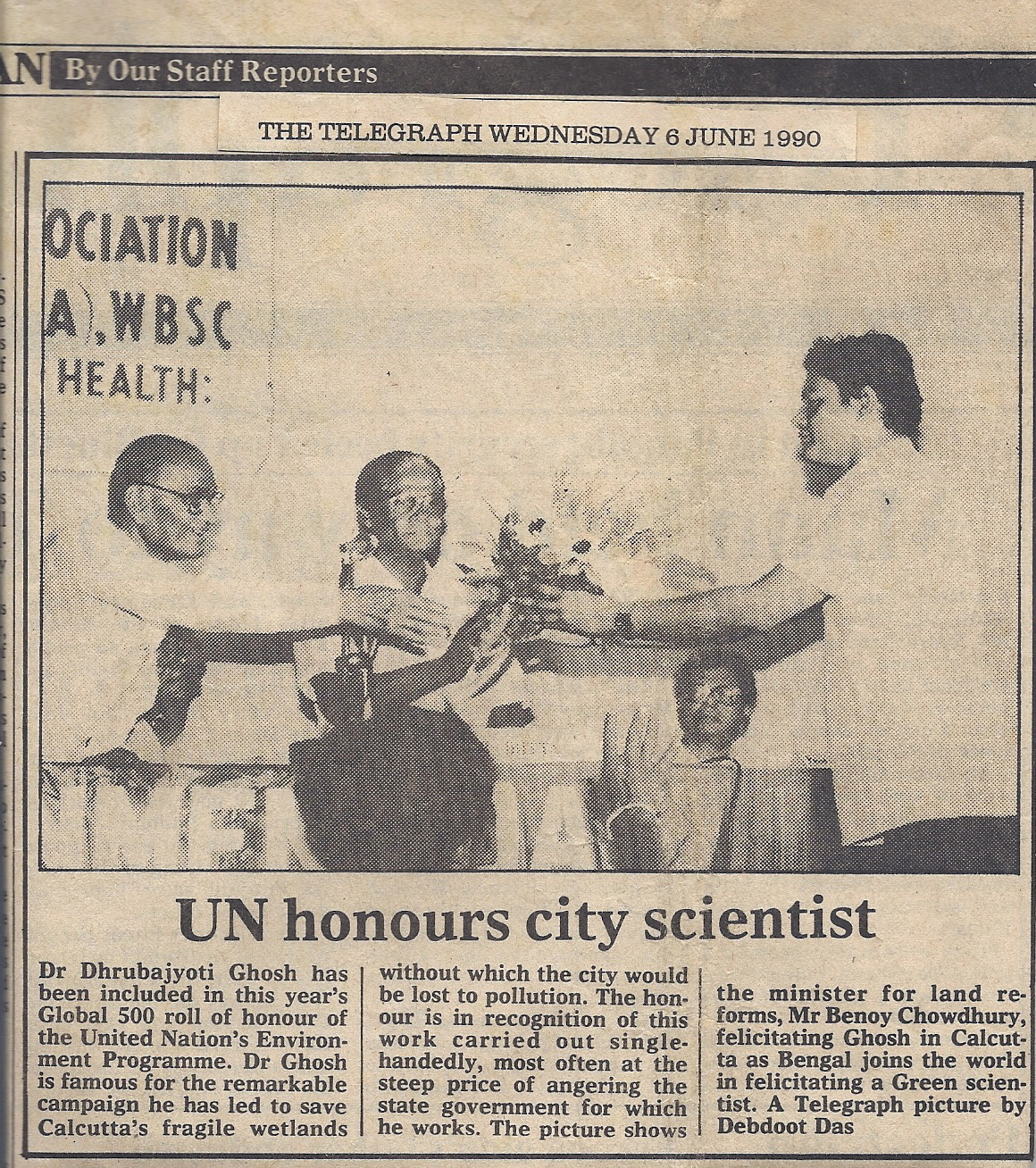 The picture above shows Ghosh being felicitated by the Government of West Bengal after receiving his international recognition.
Every year 16th June was celebrated under the aegis of the Department of Fisheries, but it gradually stopped about two years ago. For SCOPE, this day has special significance because the pioneering ecologist taught us to understand the relevance of wetlands far ahead of his time. Today, we know from Ramsar's Global Wetland Outlook 2018 that wetlands are disappearing three times faster than forests in spite of the fact that they lock in huge amounts of carbon. A typical hectare of coastal mangrove swamp holds four times more carbon than tropical forests.
In a modest commemoration of this very special day, we invited distinguished fisheries scientist Dr Bijay K Mahapatra as our Guest of Honour. He recently retired as Principal Scientist, Central Institute of Fisheries Education, Indian Council of Agricultural Research. We began a road map for a productive programme from this day, which aims at technical capacity building of the fisherfolk through training and handholding especially for low cost fish feed and disease management. This initiative will also encourage individual fishermen for small scale breeding and subsequent expansion as they are able to learn better. To enthuse fish farmers on that day saplings and a book on fish disease management were presented to fisherfolk from Baro Abad bheri (fish pond) and 4 No Fishermen's Cooperative Society.